All new NEB Panel members for Energy East should be far above any appearance of bias and must be seen to be impartial, but this is not the case.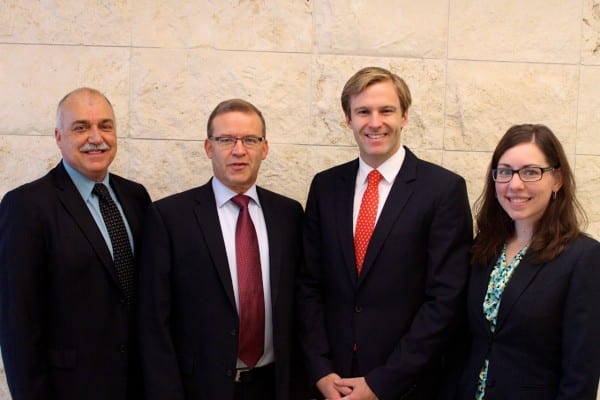 (From left-to-right is Don Ferguson, Len Hoyt, Premier Brian Gallant, and Ellen Creighton) Credit: Give'r Miramichi
All new NEB Panel members for Energy East must be far above any appearance of bias and must be seen to be impartial.  It is critical that each and every member be at arm's length of any government that is actively lobbying for this project.
In their News Release on January 9, 2017, the National Energy Board announced their selection of the three-member Energy East Hearing Panel to review this proposed tar sands pipeline project.  The Panel will be Don Ferguson, Carole Malo, and Marc Paquin. 
Since the original three-member Energy East Hearing Panel stepped down in the Jean Charest scandal only a few months ago, the National Energy Board stressed in their News Release the following:
"While the details have yet to be determined, Canadians can be assured that the Energy East hearing will be fair, transparent, timely and accessible."
Don Ferguson is a retired Deputy Minister from New Brunswick.  In their biography summary of Mr. Ferguson, the National Energy Board website fails to mention that he was part of the 2014 transition team for the newly-elected Premier Brian Gallant.  Premier Gallant, as everyone knows in New Brunswick and many across Canada, has been one of the largest and most persistent lobbyists for Energy East.  The Premier has even made special trips to Alberta and Ottawa to lobby on behalf of Energy East project.
Premier Brian Gallant is head of the same government which has rejected any Environmental Impact Assessment (EIA) being conducted by New Brunswick on this project, even though there are several triggers that make it compulsory to conduct an EIA for the New Brunswick section of the Energy East Project.  Premier Gallant is breaking his Province's own law.  
Premier Gallant's government has also refused to hold any public meeting on Energy East. And his government has refused to cooperate with the City of Edmundston when they asked for help in protecting their drinking water supply that is proposed to be crossed by Energy East. 
On the very next day after National Energy Board made their announcement of new NEB panel members for Energy East, the agency was served with a 145-page Notice of Motion by Transition Initiative Kenora.  This citizens' group would like the Energy East proceedings "void as consequence of reasonable apprehension of bias".  The group is asking that all decisions since 2014 by the former NEB Panel members be struck down.
[This extensive list includes the straight-forward request by groups in Saint John, New Brunswick that easy-to-use and understandable pipeline route maps be made available for Energy East. See my blog article from February 18, 2016 about this outstanding issue.  It has been almost a full year since this request and the NEB Board has still not required TransCanada to correct this serious omission.]
In their references, Transition Initiative Kenora cite the statements made by the three former NEB Panel members when they stepped down:
      "In order to preserve the integrity of the Energy East and Eastern Mainline projects' review  process, I have decided to recuse myself and thereby help maintain a climate of trust, impartiality, and objectivity. This should help all Canadians contribute fully to the review process." (Recusal decision of NEB Board member Jacques Gauthier)
       "As an adjudicator in a quasi- judicial function, I hold above all else the need for impartiality and integrity." (Recusal decision of NEB Board member Roland R. George)
      "...I understand how, notwithstanding our good faith and best intentions, an apprehension of bias may exist in the eyes of a reasonable person." (Recusal decision of NEB Board member Lyne Mercier)
Based on the heightened sensitivity around the trust and integrity of the National Energy Board, it would be prudent to review the selection of Don Ferguson as panel member for the Energy East project.
The words of New Brunswick's Energy Minister Rick Doucet are appropriate, "It's got to be a fair process, people have got to be impartial, it's got to be evidence-based." (CBC News, September 13, 2016 in reaction to when the original NEB Panel members stepped down)
Do you like this post?